Business students at H.H. Dow High School discovered the intricacies of product supply and demand during a novel simulation offered by the Midland Research Institute for Value Chain Creation (MRIVCC) within Michigan State University, in cooperation with The Dow Chemical Company and the American Production and Inventory Control Society (APICS).
The program, Business Principles for STEM, gave students hands-on experience buying and selling inventory, managing supply and planning for demand. The organizations partnered to develop the program, which was modeled from a similar offering from APICS. Dow's Aram de Ruiter, APICS's Cheryl Dalsin, and MSU's Ryan Vincent, were instrumental in bringing the class to Dow High.
"Up to this point in high school, students have heard very little about supply chain management," de Ruiter said. "This is an introduction to business modules so they can see that STEM (science, technology, engineering and math) is more comprehensive." He noted that, for every MSU supply chain graduate, seven high-paying jobs await, making it vital to introduce students to this promising field.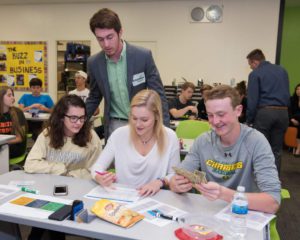 Dow High teacher Melissa DeBoer said she was excited to offer the program to her three business classes because of the way it helped explain the complex subject. "The program opened their eyes to professional supply chain management, which is difficult to explain and grasp," she said. "The students loved the program."
Multiple STEM Ambassadors and other volunteers from Dow joined the classes as mentors and assistants, which DeBoer said was an added bonus because it gave students access to working professionals in the field. "It was great to watch the students getting so engaged in the simulation and quickly picking up the concepts of supply chain management. The volunteers helped them make the connection to the real world."
Katherine A. Franz, MRIVCC Executive Director, said, "Our goal, was to establish the important relationship between STEM and business principles, and plant a seed of interest in supply chain amongst high school students. This is a growing, dynamic field that offers great opportunities for talented individuals and by all accounts our first simulation was a great success."
Over the last six years, MSU's Supply Chain Management program, within the Eli Broad College of Business, has been ranked #1 by US News & World Report. As a result, companies from around the world, including the Dow Chemical Company, look to develop talent and recruit from the college in an effort to incorporate MSU's integrative approach into their own supply chains.